Priča o Dankinom rodjenju je neočekivano dobro prošla. Poznati i nepoznati ljudi su je delili, komentarisali i slali mi privatne poruke u kojima čestitaju, zahvaljuju, ohrabruju i priznaju da su se rasplakali. Kažu da nisu navikli da muškarci tako ogole emocije.
To me je obodrilo da na blogu otvorim posebnu sekciju – "ćaletov dnevnik" i tamo nastavim priču o roditeljstvu iz muškog ugla.
Prošlo je prvih mesec dana sa Dankom. Ovako je bilo od trenutka kad sam se vratio iz porodilišta:
Približavam se kući i čujem Danicu kako viče "Evo ga. Stigao je. Vidim ga". Otvaram vrata i ona mi skače u zagrljaj. Stiska me toliko jako da mi krcka kičma. Prilazi i Ninoslav. Širok osmeh i širok zagrljaj. Tapka me po ledjima. Tapkanje koje znači: "Sad smo obojica ćalci. Preokrenuli smo igru. Od dece koja žale roditelje, postali smo roditelji koji se raduju deci." Vidim u dnevnoj sobi i Veizoviće. Videli objavu na fejsu i došli da čestitaju. Grlim se i ljubim sa njima, pa sednem i popijem nekoliko viskija na prazan stomak.
Zove me Comi. Probudila se iz anestezije. Proverava da li trunem po nekim čekaonicama ili sam se vratio kući. Kaže da se dobro oseća. Upravo je guraju ka sobi na krevetu sa točkićima. Pitam je zašto je onoliko hejtovala babice i doktore, a ona kaže da nije nikoga hejtovala, samo je osećala toliko jake bolove da nije imala snage za damske manire. Odlaze Veizovići, a ja do kraja dana odgovaran na poruke i pozive, popijem još nekoliko piva i komiram se.
Oko šest ujutru se, izmedju dva sna, setim da imam dete i odmah se razbudim. Dok pijem kafu, Comi mi javlja da joj donesem vodu, keks i spavaćice. Kaže da je toliko slaba da ne može da ustane iz kreveta. Terale su je medicinske sestre da hoda, iako ih je ubedjivala da nema snage. Kada se srušila na pod, ove su joj panično vikale: "Zašto si pala? Zašto si pala?"
Stižem u Višegradsku sa svim potrepštinama u trenutku kada posete nisu dozvoljene. Na portirnici slažem da sam krenuo u direktorijum, pa me puste ka stepeništu. Popnem se na treći sprat i ušunjam se na odeljenje. Tamo naletim na medicinsku sestru koja me pita gde sam pošao. Napravim se glup, pitam gde se ostavljaju paketi za porodilje. Kaže da sidjem na prizemlje i ostavim kesu na šalteru. Predložim joj da ipak otrčim do Comi kad sam već dovde stigao, a da se ona napravi da me nije videla. Ništa ne odgovori, samo se nasmeši i udje u lift. Potrčim kroz hodnik i udjem u treću sobu sa desne strane, stavljam kesu pored Comiog kreveta, mahnem joj i pobegnem bez posledica.
Popodne se vraćam u njenu sobu, ali legalno, u terminu za posete. Upoznajem Cominu cimerku iz Ritopeka. Priča o tome kako žene ne treba da piju vodu posle porodjaja da bi im se stomak vratio u normalu. Zato ona pije samo Coca colu. Telefonom zove muža i dere se na njega. Deli mu zadatke kako da spremi sobu i šta sve da kupi za bebu i nju. Nisu ništa pripremali unapred, kaže da je to baksuz. Comi je bleda, teško se pomera u krevetu i tiho priča. Svidja joj se keks sa smokvama koji sam jutros doneo. Predlaže mi da odem u susedni blok da vidim Danku jer je sada termin za pokazivanje beba. Odlazim tamo, kucnem na staklo i kažem da sam Dankin ćale. Sestra donosi bebu uvijenu u belu tkaninu kao burito. Prepoznajem crne oči i jake nozdrve od juče. Ovo je definitivno Danka. Juče sam je u ovo vreme držao u naručju, pa mi sad gledanje kroz staklo nije toliko uzbudljivo. Sestra vidi da je moja reakcija blaga, pa malo zaljulja Danku u naručju i krene kao da djuska sa njom. Nasmešim se i zahvalim joj. Vratim se kod Comi i sedim sa njom u sobi dok me ne izbace.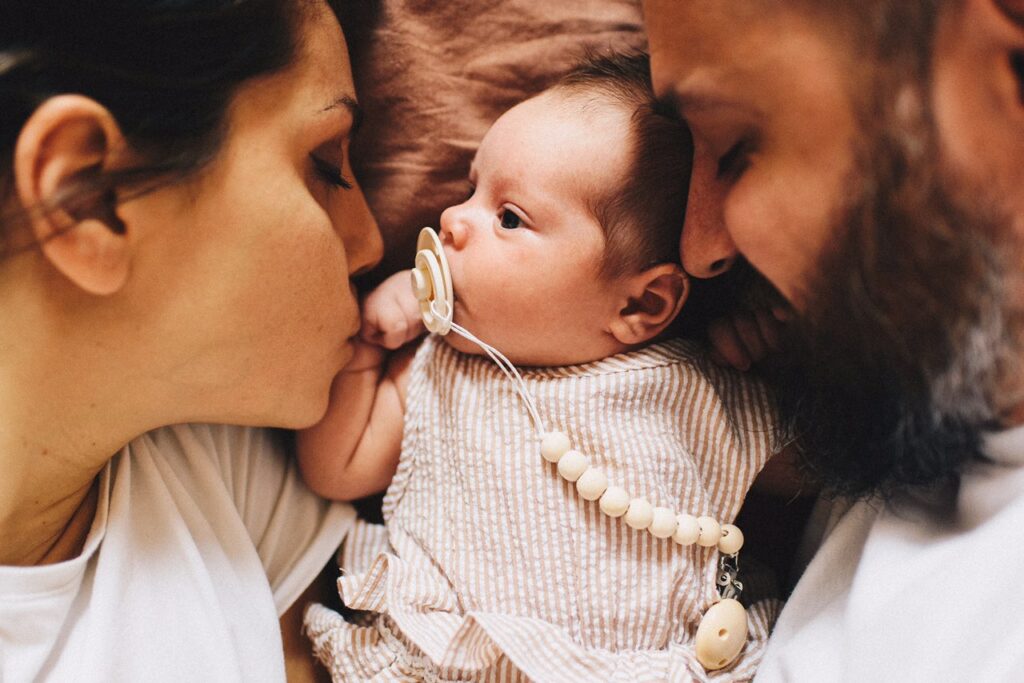 Comi mi sutradan ujutru javlja da ne moram da dolazim pre termina za posete, pa jutro koristim da napišem priču o porodjaju i objavim je na Facebooku. Pisanje prekidam dok je Danka kod Comi na dojenju, a ona me zove preko Viber video calla. Raduje me što Comi dobro stoji sa mlekom. Vidim da i Danka zna dobro da povuče. Za vreme poziva, više puta screen-shotujem na telefonu. Te fotke kasnije uveličavam i analiziram. Objavljujem priču i odlazim kod Comi. Coca cola cimerka je otišla. Došla je nova koja ne može da odluči koje ime da da novorodjenoj ćerki. Dvoumi se izmedju dva imena. Mislila je da će joj biti lakše da odluči kada vidi bebu i proceni koje joj ime lepše stoji. Danas je videla bebu i to joj nije pomoglo. Comi mnogo bolje izgleda. Saama odlazi do kupatila i uspeva da prošeta kroz bolnicu. Ushićeno prepričava susrete sa Dankom. Kaže da nam je ćerka mnogo lepa.
Iz bolnice odlazim u Tempo da kupim piće za žurku u dvorištu. Ninoslav i Danica spremaju hranu. Pada mrak i dvorište se puni dragim ljudima. Svi su u dobrom raspoloženju i skoro svi su poprilično pijani. Kornelija najpijanija. Reakcija na nagli prelazak iz tužnog u srećan period. Cepaju su mi tri majice. Beavis and Butthead, Tankard i Biohazard. Odustajem od presvlačenja i ostatak večeri fleširam okolo dlakavim sisicama oko kojih vise crne pamučne froncle.
Comi ostaje još dva dana u bolnici, dok joj se ne popravi krvna slika. U četvrtak ujutru mi konačno javlja da izlaze. Na brzinu sredjujem gajbu da bar zaliči na ono stanje u kojem je Comi ostavila i odlazim po njih dve. Penjem se do njene sobe, ali me odande isteraju i kažu da budem u čekaonici na prizemlju dok me Comi ne pozove. Čekanje se odužilo, pa sam iz bleje popio dve kafe iz automata od kojih mi se zavrtelo u glavi. Dok pijem kiselu vodu da se sredim, Comi me zove da dodjem na drugi sprat. Mladi bračni par ispred nas uzmima svoju bebu, pa sestra kaže: "Sledeći!". Prilazimo stolu i Comi u moru beba odmah prepoznaje Danku. Pita sestra kako se zovemo, a Comi, umesto odgovora, pokazuje na Danku i kaže "Ovo je naša beba." Sestra im uporedi narukvice. Jeste naša beba. Oblače je u svetlo plavu benkicu sa braon medvedićima koju sam joj doneo iz Njujorka. Sećam se kako je Comi plakala kada sam je izvadio iz kofera. Zato što je tako mala, zato što je tako lepa i zato što je kupio tata. Sada je u toj benkici iznosimo iz porodilišta. Crveni Renault Modus uskim uličicama ponovo izlazi iz Kliničkog centra i Bulevarom Oslobodjenja nastavlja ka autoputu. Vozi ga Dankin ćale, a Danka i njena mama su na zadnjem sedištu.
Stižemo u Zemun. Ninoslav je ranije izašao sa posla da dočeka bratanicu. Uzima Danku iz kola i unosi je u kuću. Spušta je na kauč u dnevnoj sobi, pa čučnemo oko nje i gledamo je. Sava, sa svojih sedam meseci, izgleda kao džin u odnosu na Danku. Pokušava da je dodirne, ali su mu pokreti neartikulisani, pa je udara je po nozi. Za koju godinu razlika izmadju njih biti zanemarljiva i lepo će se družiti. Danka se tu i tamo promeškolji, ali sve vreme spava. Tokom prve noći nekoliko puta ustajemo da proverimo da li diše. Onda je iz kreveca prebacimo u naš krevet. Spavam na samoj ivici dušeka, sa pola dupeta u vazduhu u strahu da je ne povredim.
Ujutru nam dolazi patronažna sestra u posetu. Kaže da taj posao radi od devedeset četvrte i da joj je ovo prva Danka. Fina neka žena. Strpljivo nam objašnjava sve što nas očekuje u narednom periodu. Okupa Danku pred nama i pokaže nam kako se neguje pupak. Otvoriš ga prstima, kapneš jod u rupu i zalepiš sterilnu gazu preko. Vidi da smo ležerni u odnosu sa bebom i ohrabruje nas da tako i nastavimo. Savetuje nas i da ne preterujemo sa menjanjem pelena. Kaže da je ok da beba bude malo i u prljavoj peleni. Danka i sledeću noć mirno spava, a mi je povremeno budimo da bi sisala. Postajemo opušteniji, dobijamo osećaj kako "držimo stvari pod kontrolom".
U trećoj noći od Dankinog dolaska, ta naša iluzija o kontroli surovo se ruši. Danka se dere cele noći. Bordo-crveno zbrčkano bebeće lice i širom otvorena usta. Šta god da pokušamo, ne uspevamo da je smirimo. U nama se mešaju strah da možda ima neki ozbiljan problem, pospanost, iritacija bukom i osećaj apsolutne nemoći. Do jutra je na smenu u ljuljamo u naručju. Onda pred zoru konačno zaspi, a mi neupotrebljivi nastavimo da bauljamo kroz dan. I sledeća noć je slična. Comi nalazi na netu pojam "witching hour" koji opisuje stanje u kojem beba satima plače i ne postoji ništa što možeš da uradiš da bi je smirio. Roditeljima se savetuje da trpe i sačekaju da veštice odu. Otrpimo i drugu noć za redom.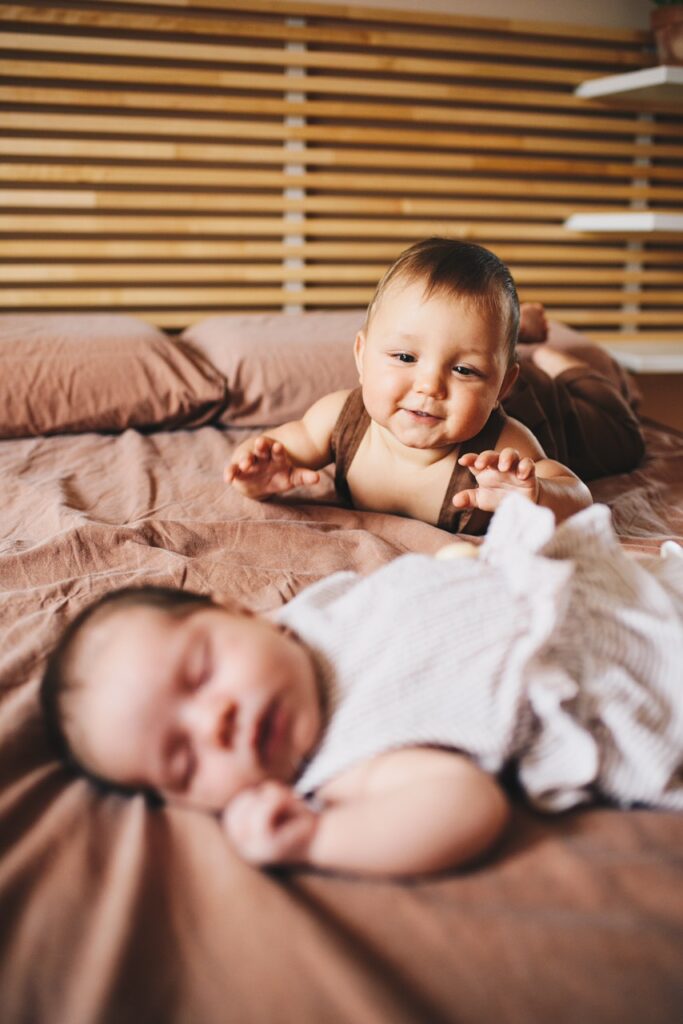 Počinjemo da joj dajemo američke kapi za grčeve. Naučio sam i kako da joj masažom isterujem prdeže kada je muče gasovi. Danka ponovo noću spava i to nam donosi olakšanje. Sa druge strane, preko dana je mnogo više budna nego ranije i traži da joj se posveti puna pažnja. Moramo na smenu da je nosimo, ljuljamo i da joj pevamo. Negoduje ako vrtimo istu pesmu u krug. Dani koji se provode u ugadjanju bebi prolaze neverovatnom brzinom. Iscrpljeni smo i frustrirani smo što ne uspevamo da se posvetimo ostalim obavezama. Biznisi i projekti na kojima radimo potpuno stagniraju. Upadamo u frku, pitamo se hoćemo li ikada moći da budemo produktivni kao što smo bili pre Danke. Onda nas ona, tako umorne i isfrustrirane, iznenada pogleda pravo u oči, nasmeši se, pa to više i nije važno.
Dolaze Comini roditelji da upoznaju Danku. Baba i deda su se zaljubili u unuku. Analiziramo na koga liči. Uporedjujemo Comine i moje slike iz detinjstva i čini se da malo više liči na mene. Dok su nam u gostima, Comi i ja dva dana za redom odspavamo po par sati popodne i preporodimo se. Zakukamo Cominoj majci da će morati da dolazi kod nas da čuva Danku ako ne želi da crknemo od gladi. Obećava da hoće. Dok sedimo sa njima, na TV-u kreće "Danka" Tome Zdravkovića. Javljaju da je umrla legendarna Danka Novović kojoj je ta pesma posvećena. Životni ciklusi. Neke Danke dolaze na svet, a neke, na žalost, moraju da odu.
Dani koji slede su pakleno vrući, a mi više ne smemo da koristimo klimu kao nekad. Ne koristimo ni otrovne tabletice za komarce, pa noću više puta ustajem, palim svetlo i majicom ih ubijam po zidovima i plafonima. Kvalitet života nam je drastično opao. Odlučujemo da pobegnemo na Kopaonik. Ignorišemo savete da beba od tri nedelje ne treba da ide na put. Pre Kopaonika, zovemo Dunju da nas fotka sa Dankom. Comi sredjuje našu sobu, puni je cvećem i fotogeničnim komadima nameštaja koji inače ne stoje u njoj. Danka je raspoložena za fotkanje, pozira baš kako treba. U nekom momentu dolazi i Sava da se slika sa sestrom. Okupamo Danku pred foto aparatom i sešn je gotov. Dunja uspeva da napravi sjajne fotke na kojima izgledamo srećno i odmorno.
Prošla su ona vremena kada smo na Kop odlazili sa po jednim rancem. Sada nam auto izgleda kao da se selimo. Prvu pauzu pravimo u Meku u Velikoj Plani gde presvlačimo Danku u njihovom wc-u. Vratimo se u kola, a ona se obilno uneredi i pojavi se braon fleka na benkici. Presvlačimo je još jednom na sedištu i nastavljamo ka Kopu. U Ćićevcu Danka počinje da se dere, pa je Comi uzima u naručje i pokriva maramom. Malo je doji, malo umiruje. Ja usporavam, ali nastavljam da vozim. Ozbiljan saobraćani prekršaj. Danka se umiri i zaspi, pa je vraćamo u jaje i mirna je do kraja puta.
Stižemo u Montanu – našu drvenu planinsku kuću. Nekada je bila jedina u sokaku, a sada je okružuje nekoliko betonskih rugoba. Uprkos svemu i dalje je magična. Kuća u kojoj ne možeš da budeš nervozan, kuća u kojoj se ljudi ne svadjaju. U Montani su samo neophodni komadi nameštaja, posudja i tehnike. Sve može da se sredi za najviše pola sata. Minimalizam u kombinaciji da deset stepeni nižom temperaturom nam je definitivno bio potreban. Nema ni komaraca na ovoj nadmorskoj visini. Dok iznosim stvari iz kola, Comi uspavljuje Danku na fotelji. Onda odlazi da nam namesti sobu, a ja skuvam pileći paprikaš sa majčinom dušicom. Jedemo, pa okupamo Danku planinskom vodom. Pada mrak i svo se troje zavlačimo pod veliki debeli jorgan.
U Montani ostajemo nedelju dana. I tamo nam dani prolaze brže nego što bismo voleli, ali ipak uspevamo da budemo koliko-toliko produktivni. Pročitamo čak i po nekoliko stranica knjiga koje smo poneli. Spuštam se do Novog Pazara da servisiram auto. Tamo pokušavam da shvatim zašto sam se unervozio i skontam da mi Danka već nedostaje posle samo sat vremena. Znači, postao sam taj ćale. Majstor javlja da je auto gotov, ubacujem u gepek pršutu i vruće somune pune ćevapa, pa hitam nazad uz planinu ka svojim ženama.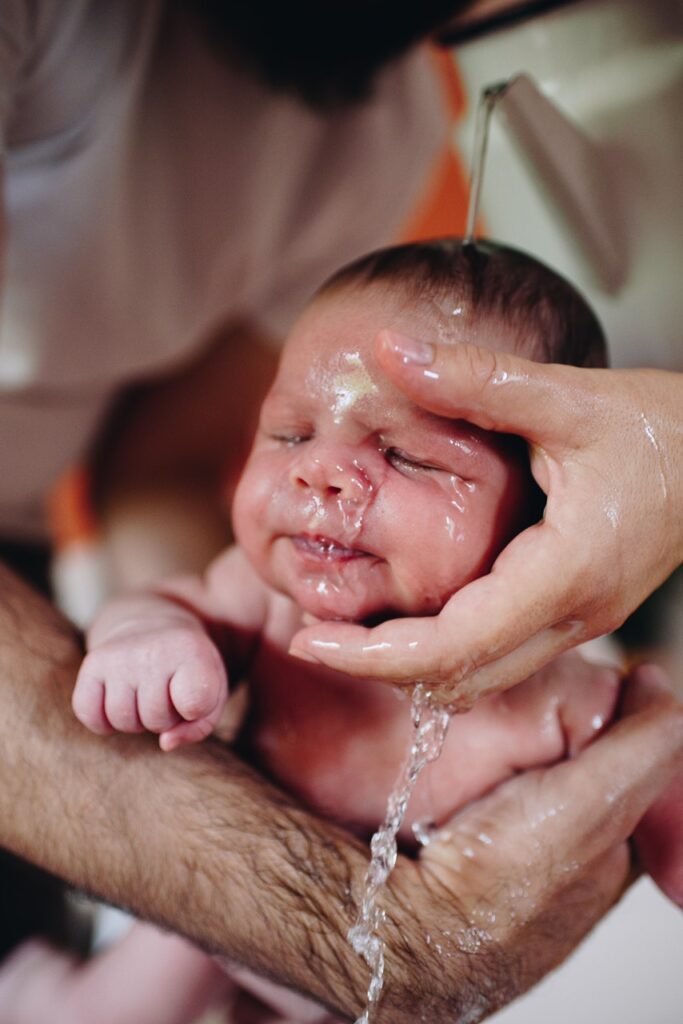 Sa Kopa silazimo u Aleksinac. Tamo Danka upoznaje svoju prababu Nadu. Treća generacija potomstva. Trenuci koji nas podećaju koliko je život lep. Dolaze i Comini stric i strina. Danka se u gostima lepo ponaša. Mirna je dok prelazi iz jednog naručja u drugo i sluša različite, do sada nepoznate glasove. Uveče sa Cominim ćaletom gledam Zvezda – Kopenhagen. Opustim se i popijem dva piva uz tekmu iako sam prestao da pijem da bih manje hrkao. Ne može Comi više da spava sa čepićima u ušima. Mora da osluškuje bebu, a ja ne želim da se selim na kauč za goste. Pavkov daje još jedan u nizu neverovatnih golova, Danci izjednačuju iz penala, pa odlazimo na spavanje. U toku noći me Comi, zbog hrkanja, otera u drugu sobu.
Ujutru rano odlazimo u Zemun. Vodimo Danku u dom zdravlja, na prvi pregled kod pedijatra. Doktorka je prevrće na tapaciranom stolu, diže joj ruke i noge, pa je sluša je stetoskopom. Kaže da je Danka super. Stavlja je na vagu – 4.6 kg. Dolazi sestra da joj da vakcinu. Comi i ja je držimo dok je špricem bode u levu butinu. Danka vrišti. Kaže sestra da je to peče. Vidim da je Comi pustila suzicu, a i meni se grlo steglo.
Sestra odlazi da popuni Dankin karton imunizacije, a mi ostajemo nagnuti nad našom bebom dok je tešimo. To smo sada Comi i ja. Emotivni roditelji u dečijem dispanzeru zemunskog doma zdravlja. Roditelji kojima mnogo manje treba da bi se rasplakali nego ranije, svejedno da li od sreće ili tuge. Roditelji koji se, isto tako, mnogo više i iskrenije smeju i umor im više ne smeta da bi uživali u životu. Roditelji koji su mesecima planirali da ih roditeljstvo ne promeni, pa su shvatili koliko je taj plan bio smešan. Roditelji koji su se zavoleli na još jednom, za njih ranije nepoznatom, nivou.