Pola pet ujutru. Zvoni telefon na polici pored kreveta. Zove me Comi, javlja da joj je izgleda pukao vodenjak. Savetuje da budem u pripravnosti. Ustajem i razmišljam koliko je dobro što je otkazan koncert Oslobodilaca sinoć, ko zna na šta bih sada ličio. Umijem se i pogledam u ogledalo. Bradati lik sa ućebanom kosom. Deluje da nije upao u frku od onoga što ga danas čeka. Bradati drži stvari pod kontrolom. Comi ponovo zove. Vodenjak ipak nije pukao, ali curi i nešto se definitivno dešava. Očekuju je još dva pregleda.
Tuširam se, pa pažljivo feniram kosu. Danas je veliki dan, moram da izgledam kao milionče. Otvaram fioku sa boksericama. Preturam, tražim prikladan print. Uzimam gaće sa aplikacijama onih fenjera u koje se stavlja sveća, pa ih nosiš u ruci da ti osvetle put. Malo simbolike. Danka će biti naš mali fenjer na putu koji sledi. A i mi njen do puberteta. Oblačim belu majicu bez aplikacija. Znam da bebe u početku vide samo senke i ne razaznaju boje. Hoću da Danka pogleda ka blještavobeloj majici čim se rodi. Da vidi ćaleta. Oblačim i sive bermude, a leviske stavljam u ranac – ako dres kod bude nalagao pantalone ili ako se ja tamo na licu mesta iznenada uozbiljim i upadnem u formalni trip. Na kraju obuvam čarape sa tufnama. Da ćale bude malo fanki.
Spremam doručak za Comi i krećem. Šoferšajbna je jezivo prljava. Auto je prenoćio ispod lipe, a padala je kiša. Ne smem da palim brisače jer mi se ručica dimila pre par dana, a električaru sam otkazao servis kada su Comi primili u porodilište i ručica brisača ispala sa liste životnih prioriteta. Na autoputu se, od brzine, dobar deo štroke razleti, pa vožnja postaje lakša. Isključujem se na Mostaru ka Kneza Miloša. Setim se svojih roditelja. Nisu dočekali ovaj dan. Napadne me tuga zbog toga, ali je brzo otresem. Na automobilu ispred vidim registraciju "1410". Jebote, četrnaesti oktobar. To je bio i kevin i ćaletov rodjendan. Uzdahnem, zavrtim glavom i nasmejem se.
Skrećem u Višegradsku, pa na vrhu brda desno, obilazim Lazu i stajem ispred porodilišta. Tamo me Comi čeka. Poljubim je i dam joj posrbljenu verziju Sabeech pite, njenog omiljenog njujorškog doručka. U vruć novopazarski somun sam namazao puter od susama, ubacio nekoliko kolutova pečenog, pa proprženog patlidžana, jedno iseckano kuvano jaje i usitnjeni paradajz i krastavac. Vraćam se u auto i krećem da tražim parking u krugu Kliničkog centra. To traženje traje dovoljno dugo da mi Comi javi da se ne seća kada je jela lepši doručak, da mi kaže da sam najbolji muž na svetu i da ovaj sendvič moramo da uvedemo za doručak u Montani. Uspevam da zavučem auto tik pored dva betonska silosa. Nije baš pravo parking mesto, ali neće smetati nikome.
Nateram sebe da pojedem kiflu sa kioska i popijem jogurt iako ne osećam glad. Comi javlja da je šalju u porodjajnu salu. Odlazim u porodilište i na ulazu osećam da me hvata blaga frka. Kupim flašicu vode sa automata i popijem na eks. Malo sam bolje. Sretnem na hodniku doktora koji je primio Comi u bolnicu. Kažem mu da je porodjaj krenuo. Zna da hoću da prisustvujem, pa mi kaže da odem u ordinaciju 5 po garderobu za porodjaj. Čudno mi je što me šalje tamo. Tamo je Comi ponedeljkom išla na CTG i znam da iz tog dela bolnice večito teraju muškarce. "Molimo da pratioci izadju napolje!" Kucam na vrata ordinacije, niko ne odgovara. Odškrinem i kažem dobar dan. Krupna buč medicinska sestra s kratkom kosom skače kad je čula muški glas i počinje da se dere na mene.
– Šta radiš to? Kako smeš da ulaziš ovde? Ovde su žene gole, pregledaju se.
– Znam da su tu žene gole, zato nisam ni ušao, samo sam malo odškrinuo.
– Šta tražiš ti ovde uopšte?
– Treba mi odelo za prisustvo porodjaju, doktor me poslao kod vas.
– Da li je taj doktor normalan?
– Jeste, normalan je. (Žene u čekaonici počinju da se smeju)
– Idi u direktorijum bolnice na drugi sprat i nemoj ovde da se vraćaš. O bože mili!
U direktorijumu mi traže briseve grla i nosa. Kažem da sam im to već pokazao pre nekoliko dana, ali im pokažem opet. Vide da imam njihovo odobrenje za prisustvo, pa me i oni pitaju što sam došao. "Za odelo". Pošto u direktorijumu nema golih žena, bez drame mi objašnjavaju gde je garderoba u prizemlju. Tamo se konačno skidam i oblačim plave pantalone, plavu bluzu i braon gumene papuče. Plan sa belom majicom pada u vodu. Fanki čarape ostaju da posvedoče da sam kul tip. Žena iz garderobe me sprovodi do porodilišta na trećem spratu. Na ulazu stavljam nazuvke preko papuča, masku za nos i usta i mrežicu preko glave. Džabe sam se fenirao i utrljavao finu pastu u kosu. Ulazimo u porodjajni blok. Comi mi nasmejana maše iz susedne sobe. Prilazi babica i pita šta tražim ovde. Pokažem na Comi i predstavim se kao suprug. Kaže mi da izadjem ispred i sačekam da me prozovu.
U čekaonici su tri plave fotelje od skaja i mali kauč. Sedim sam. Ne smem da drndam telefon, imam 35% baterije, a trebaće mi za fotkanje u sali. Vidim da keramičar nije pažljivo lepio pločice pa su mu bežale fuge i ta razlika je do kraja hodnika postajala sve veća. Na zidu kolaž sa slikama dece. Tridesetak nehajno poredjanih fotki dece, od novorodjenčadi do možda tri godine starosti. Pitam se da li su to deca zaposlenih ili deca rodjena ovde. Ako su deca rodjena ovde, kako li su vršili selekciju? Devojčica na najvećoj fotografiji me podseća na devojčicu za invaliditetom koju poznajem. To aktivira rovca u mojoj glavi. Da li će beba biti dobro, koliko su testovi koje smo radili zaista precizni i koliko su se doktori cimali dok su ih radili? Postoji onaj test kada šalješ neke uzorke u Švabiju za koji kažu da je 100% precizan. Možda je trebalo da ga radimo? Gledam u ostale postere na zidu u nadi da će rovac da se smiri. Na jednom piše da je peti maj medjunarodni dan babica. Comi i ja smo se smuvali petog maja pre jedanaest godina. Eto još malo simbolike. Tu je i poster u slavu neke legendarne babice iz Višegradske koja je porodila silne hiljade beba i naučila mlade babice zanatu. Neke od tih njenih učenica izlaze i ulaze iz sale, a ja gledam da im uhvatim pogled da bi mi se obratile. Iskusno uspevaju da me izbegnu.
Prolaze sati. Pravi sati, ne neki figurativni, subjektivni sati. Ne prija mi blejanje u ovoj prostoriji. Konačno mi se jedna babica obrati i kaže da je pravilo da muž ulazi u salu tek kada je žena otvorena sedam centimetara, a da je moja supruga trenutno negde izmedju pet i šest. Dodaje i kako ona misli da je to baš glupo i da bi muž trebalo da je tu od prvog trenutka, ali šta da se radi – pravila su pravila. Iskusno. Razume me, slaže se, saoseća sa mnom i zatvara vrata za bilo kakve pregovore. Zahvalim i kao napravim foru da me pozove na šest i po. Kakve okolnosti, takva i fora. Skoro da sam upao u polusan kad sam čuo Comi kako je dreknula iz sale prvi put. Ozbiljan krik. Skočim sa kauča i podižem se na prste, kao da ću moći da vidim nešto kroz staklo. Drekne još jednom malo slabije, pa se ućuti. Hodam nervozno levo-desno kao Baltazar kroz čekaonicu dok me konačno, nakon skoro tri sata ne pozovu da udjem unutra.
Comi leži na plavom krevetu pokrivena čaršafom. U nosu su joj cevčice za kiseonik. Izgleda izmučeno i nervozno. Spuštam ranac pored radijatora i pokušavam da naštelujem onaj osmeh koji je dovoljno velik da je oraspoloži i unese spokoj, a opet ne previše velik da prelazi u glumljenje ludila koje bi je dodatno iznerviralo. Nasmeši se i ona. Drago joj je što sam konačno tu. Uhvatim je za ruku u kojoj je braunila. Neka bezbojna tečnost joj ulazi u telo. Pretpostavljam da je to indukcija. Pitam je što se onoliko drala. Kaže da joj je babica bušila vodenjak prstom i da je htela da umre koliko je zabolelo. Od šoka je bebi na trenutak prestalo da kuca srce, pa su se svi zabrinuli. Stanje se brzo stabilizovalo, ali izgleda da joj zbog toga neće davati anesteziju.
Razgovore nam prekidaju kontrakcije. Kreću slabije, uz duboko disanje, sledi stenjanje, pa jauk i sve se ponovo umiri. Na stomaku joj je CTG. Plavi kaiševi koji drže dva kruga uz kožu. Iz krugova idu žice u mali beli aparat na čijem displeju izlazi bebin puls i konstantno se štampa papir sa grafikonom srčanog rada. S obzirom na to da je Comi već tri sata u sali, taj papir je dosta dugačak i pao je na pod. Skupljam ga, pažljivo slažem i vraćam na sto pored aparata. Vidim da je ovaj CTG donacija vlade Japana. Pored njega je neka šipka koju je donirala Komercijalna banka. Kontrakcije se nastavljaju, a doktori i babice ulaze na smenu. Svi su potpuno oguglali na ovo, nema nikakve neverbalne komunikacije koju mogu da analiziram. U nekom trenutku ih udje petoro i krenu da postavljaju pitanja: Koliko ona ima godina? Ko je vodio ovu trudnoću? Ima li ona sve analize? Onda razvlače one papire koje sam ja slagao i nešto pokazuju prstom. Ponašaju se kao da nešto ozbiljno nije u redu i onda glavni lik slegne ramenima i kaže: "Dobro, ovo je lepa dilatacija, ide sve kako treba, još malo i to je to." I onda ponovo svi izadju.
Comine kontrakcije postaju sve bolnije što čini da je ona sve neprijatnija prema babici koja je pregleda i pokušava da ubrza proces. Babica pokuša milom, pa onda drekne. Drekne i Comi na nju, pa babica odustane i izadje napolje. Pojavljuje se neki zalizani lik za kojeg, po ponašanju osoblja, pretpostavljam da je jako bitan doktor. Svi su nosili klompe samo je on imao nove bele, najbelje patike na svetu. Kada je ulazio u sobu rekao je "Znači to je ona mala što neće da saradjuje?". Seo je na Comin krevet i održao mini motivacioni govor kako su tu svi doktori i babice zbog nje, kako je čak i suprug tu zbog nje, ali da mi ne možemo da se porodimo umesto nje i da je potrebno da se još jače potrudi da bi se porodila. Comi je klimala glavom i rekla "u redu". Dovoljno dobro je poznajem da znam da je samo htela da ga skine s kurca. Pitala ga je zašto joj nisu dali epidural, a on je rekao da ne zna, ali da je toliko duboko u porodjaju da epidural više nije tema.
Ponovo smo sami. Kontrakcije se nastavljaju, intervali stenjanja su sve kraći, a intervali krikova sve duži. Kvasim tufer na česmi i vlažim joj usne. Comi pokušava da isisa što više vode iz tkanine. Koliko li je gadnog ukusa ta voda? Dolaze da je pitaju "da li beba pritiska na guzu". Kaže Comi da pritiska. Opet odlaze. Pokušavam da je obodrim. Kažem da je pošlo tri četvrtine posla. Comi me šapatom moli da ćutim. Kaže da joj je užasno vruće. Naginjem se iznad nje i duvam joj na vrat da se rashladi. Izvinjavam se ako mi smrdi iz usta, slabo sam pio vodu danas. Suv želudac. Nije joj smešno. Izvinjava mi se što sam ovde. Izvinjava se što je gledam takvu. Uvija se i dere se. Stomak joj menja oblik, sav se iskrivio. Sad joj je hladno. Pokrivam je. Gledam je, lepa mi je tako izmučena, ali joj to ne govorim. Skoro da više nema pauza izmedju kontrakcija. Podignem čaršaf i provirim da slučajno nije krenula beba kao na onim klipovima sa Instagrama koje sam gledao prethodnih dana. Nema glave ali je i meni laiku očigledno da će se uskoro pojaviti.
Ubrzo u salu ulaze četiri žene i muškarac. Uhodani korak, kao vojska. Vidi se da su ovo radili bezbroj puta zajedno. Dve žene sedaju pored Comi i spuštaju dlanove na gornji deo stomaka, muškarac i žena joj drže noge da se ne pomera, a ona babica sa kojom sam se bondovao u hodniku se sprema da prihvati bebu. Kažu joj da se napne iz sve snage. Comina faca je bordo boje, iskočile su joj vene i ispušta zvuk najvećeg napora na svetu, one dve žene joj guraju stomak, ali nema bebe. Podviknu joj da mora jače da se potrudi. Comi traži da sklone ruke sa nje da može da udahne punim plućima. Puštaju je. Udiše, pa sledi još jedan napor. Saginjem se, pokušavam da vidim nešto kroz tu šumu ruku i nogu. Ugledam glavicu sa gustom crnom kosom. Derem se: "COMIIIIII, EVO JE DANKA! VIDIM JE! EVO JE!" Dere se i Comi: "AAAAAAAAAAAAARGHHHHHHHH!!!!"
Babica izvlači malo ljubičasto-žuto biće premazano kajmakom i spušta ga ispod Comi. Ne pomera se i ne ispušta nikakav zvuk. Ponovo pokušavam da uhvatim njihovu reakciju. Da li je dete živo? Pelenom brišu kajmak sa nje, a ona u tom trenutku zaplače najtiše na svetu. E, tada me je spucalo! Roditeljski instinkt se probudio i kao uragan mi produvao kroz telo. Znao sam da bih mogao iste sekunde da umrem za ovu malu koju ne poznajem duže od par trenutaka. Babica joj seče pupčanik, a ja sklanjam Cominu spavaćicu i pravim prostor da Danka legne na mamu. Babica je spušta i ja počinjem da plačem. Gledano sa strane, totalni kliše. Ćale plače jer je video bebu. Gledano iznutra, to je ventil za strašnu lavinu emocija koja se niotkuda pojavila i sručila na mene.
Comi se nepovezano obraća bebi: "Danka, pa ti si tu. Danka, pa ti plačeš…". Pogleda u ljude oko sebe i kaže: "Hvala vam puno." Uzimaju Danku i iznose je iz prostorije, ja poljubim Comi i koristim trenutak da njenim roditeljima i Ninoslavu javim vesti. Vraćaju nam povijenu Danku. 3670 grama i 52 centimetra. Spuštaju je na Comine grudi. Fotkam njih dve, pa prelazim sa druge strane kreveta da nas sestra fotka svo troje. Nasmejana porodica. Pitam ih da meni malo daju bebu. Kažu da se to ne praktikuje. U redu, samo sam pitao, ne želim da kršim procedure. Lepa reč je otvorila gvozdena vrata i Danka je u mom naručju. Nekoliko fotki sa ćaletom, pa je ponovo odnose. Babica daje Comi anesteziju da bi je ušivala, a meni kaže da ponovo izadjem ponovo i sačekam dok me ne pozove.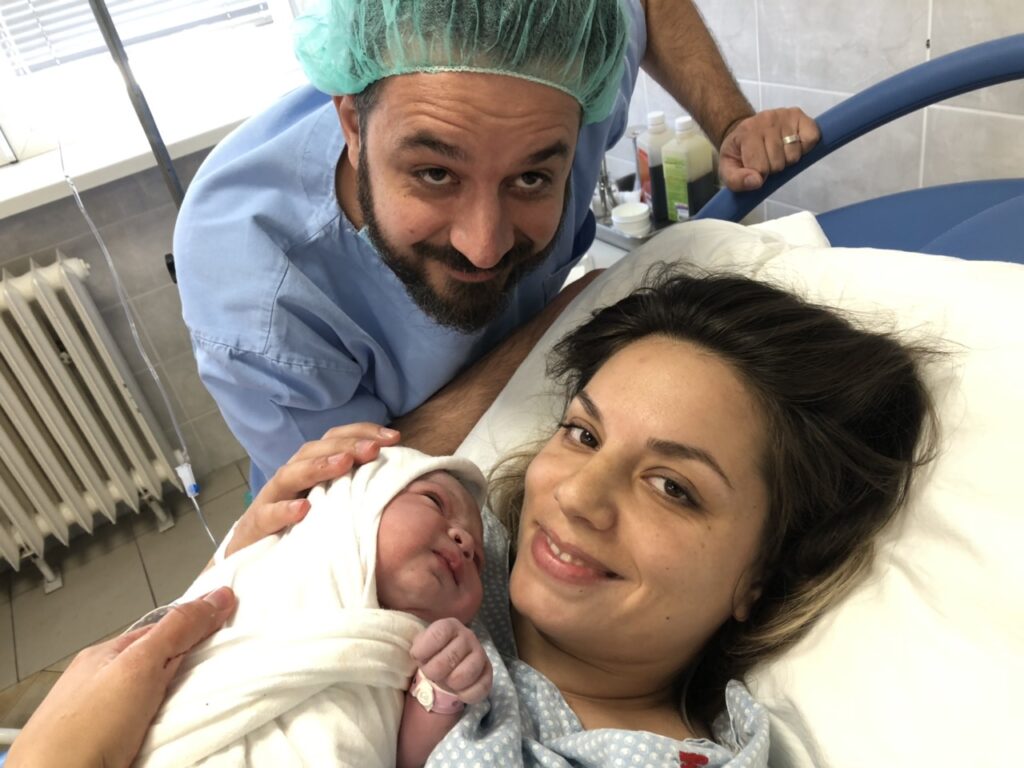 Osećam se kao da me je pregazio kamion. Ležim na kauču u čekaonici. Zaplačem još nekoliko puta, okačim jednu od fotki na Facebook i telefon krene da blinka kao lud. Posle 45 minuta mi dosadi čekanje i vratim se u salu bez pitanja. Tamo Comi spava omamljena anestezijom. Uzimam ranac i odlazim. U garderobi se presvlačim u civilku i izlazim iz bolnice.
Većina automobila je otišla iz kruga kliničkog centra, i na tako raščišćenom prostoru, moj auto izgleda debilno, onako pripijen uz silos. Sedam u njega, palim motor i kreće muzika na radiju. Gasim je. Nisu mi potrebni spoljašnji stimulansi. Imam sasvim dovoljno unutrašnjih.
Crveni Renault Modus uskim uličicama izlazi iz Kliničkog centra, pa Bulevarom Oslobodjenja nastavlja ka autoputu. Vozi ga Dankin ćale.