Debelo kasnim sa ovim tekstom i verovatno bih do sada i odustao od pisanja, ali ne smem jer je prošla godina bila toliko dobra da bi bilo tužno da je ne podelim sa svetom. Baš kao što je Eddie Vedder je na jednom od meni najdražih Pearl Jam albuma otpevao – "I gotta say it loud, better now than too late". Evo kako je bilo.
Nakon što se struja vratila u Montanu, januar je manje-više bio isti kao i prethodnih devet. Uhodani planinsko-ugostiteljski režim. Srbi, Rumuni, Kinezi i Grci dolaze u Montanu i iz nje odlaze. Sa nekima od njih družim, a od nekih se sklanjam. Pratim vesti iz Beograda i patim što nisam na protestima. Ložim se da je promena blizu.
Februar donosi prvi u nizu velikih početaka u 2019. Comi, zajedno sa Milicom i Marijom, lansira Multipraktiku na Galantine's Day – 13. februara. Objavljujem dugački post "Multipraktika – jedna ljubavna priča" u znak podrške njihovom preduzetničkom početku. U mesecima koji slede pokazaće se da je dobro što su se osmelile da daju otkaze i pokrenu svoju scenografsko-dekoratersku firmu. Brzo rastu i razvijaju se, priča se o njima, sve je više klijenata i dobro odrađenih poslova. U prvih pola godine o njihovom radu su pisali i najpoznatiji svetski magazini i srpski tabloidi. Sve u svemu, bravo za dve Comi i jednu Maru!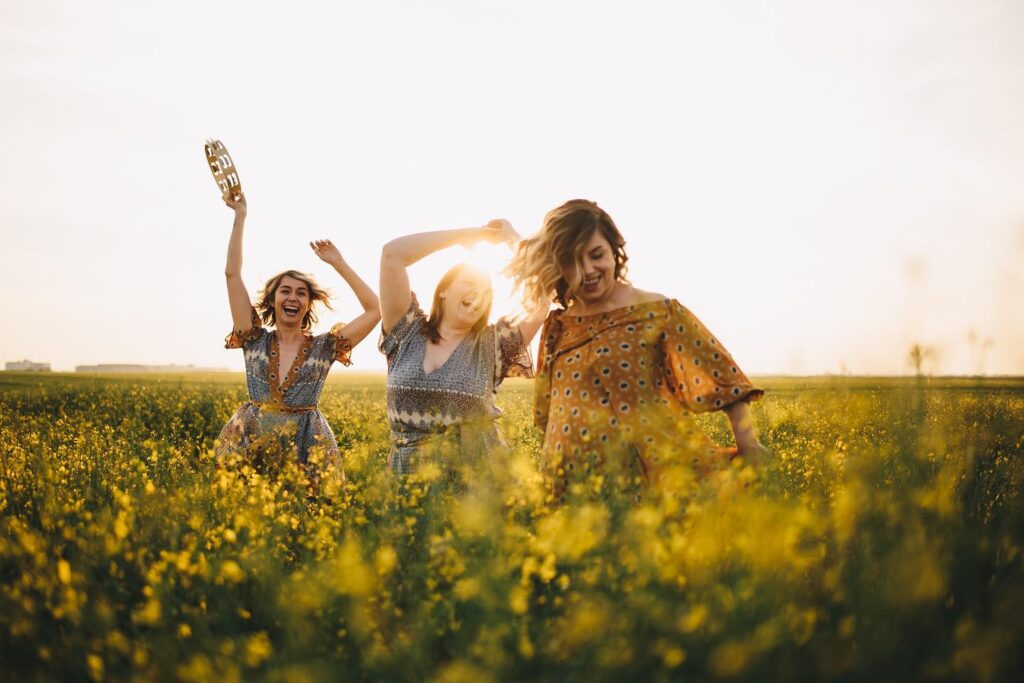 Nekoliko dana nakon lansiranja Multipraktike, na ultrazvučnom pregledu, doktor nam kaže da Comi nosi devojčicu. Kažemo mu da su nam na prošlom pregledu rekli da je dečak, a on zavrti glavom, ponovo predje onom alatkom preko Cominog stomaka i okrene se ka nama: "Ovo je definitivno devojčica". Znači, ne čekamo Milutina. Čekamo Danku.
Pored nove firme i bebinog polnog preokreta, februar donosi i "push" za Zanateriju. U intervjuu za portal "Priče sa dušom" Comi ja ja prvi put javno pozivamo zainteresovane male proizvođače da nam se jave. Ne znajući koliko je uticajan taj portal, šokira nas činjenica da je članak za nedelju dana pročitan preko dvadeset hiljada što nam donosi skoro 150 prijava u inbox. Tada definitivno shvatamo da je Srbiji potrebna Zanateria, ali i da je nama potreban ozbiljan proces selekcije proizvoda kako džank ne bi zatrpao sajt i učinio ga besmislenim.
Medijski mini-hajp oko Zanaterije se nastavlja i u martu kada nekoliko magazina objavljuje tekstove o nama. Krajem marta se završava i sezona u Montani i ja se definitivno vraćam u Beograd i prepuštam tradicionalnoj prolećnoj melanholiji.
Još jedan u nizu novih početaka dešava se u aprilu. Lansiramo našu ketering firmu "Ulje na vatru!". Comi je sa Multipraktikom osmišljava i organizuje promo fotkanje u Ciglani. U raspalu fabričku halu unosimo šporet, gomilu namirnica, kuhinjskih gedžeta i dekoracije. Od jutra do mraka kuvamo, jedemo, pijemo i poziramo dok nas Dunja fotka. Posle nekoliko dana nam stižu brutalne fotke uz koje objavljujemo da je "ulje" rođeno.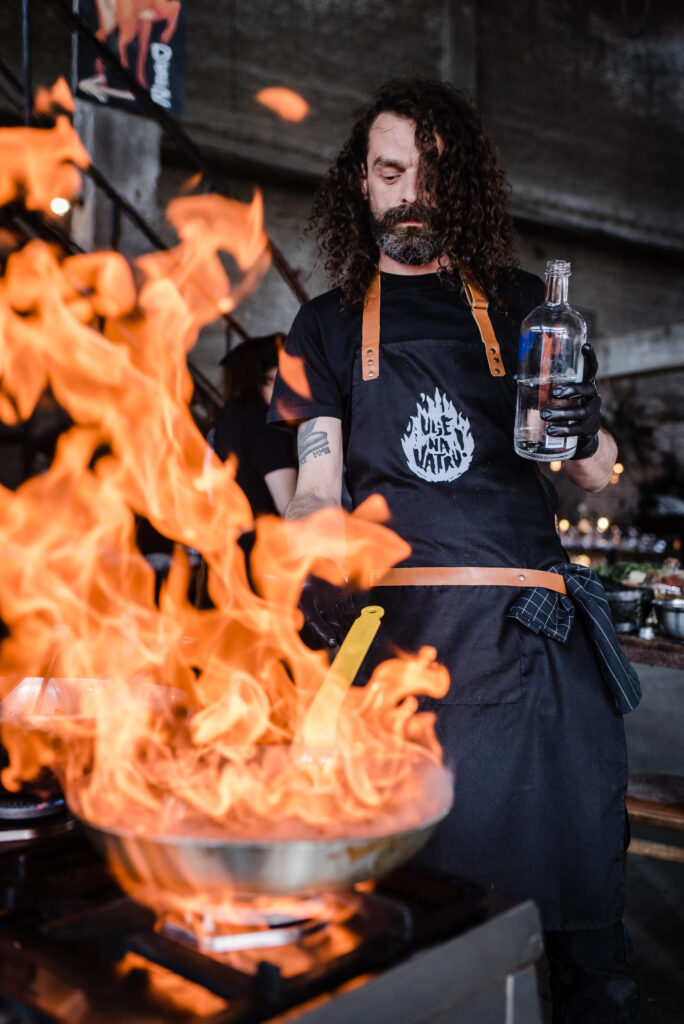 April ne donosi samo početke. Dešava se i jedan kraj. Kraj mog loženja da će se iz protesta izroditi nešto ozbiljnije. Veliki miting opozicije ispred skupštine prepun mitomanije i opštih mesta me podseća da živim u mehuru i da je moje loženje da su se nekakvi procesi u društvu pokrenuli bilo potpuno nerealno. Ipak, nemam vremena da se zbog toga previše bedačim jer se spremam za daleki put. Odlazim sa Ninoslavom u Njujork.
Zbog džetlega prvih nekoliko jutara dočekujem u dajneru u Astoriji sa vatrogascima i građevinskim radnicima. Pijem filter kafu, pišem mini priče za Instagram "Ulja na vatru" i odgovaram na Zanateria mailove. Njujork bez Comi mi je nekako nepotpun. To je grad koji smo zajedno otkrili i koji nas je zauvek promenio, pa mi je čudno što sam tamo ovog puta bez nje iako Ninoslav nije nimalo loše društvo.
Nagovaram Comi da ode na još jedan ultrazvuk pre nego što krenem da kupujem stvari za bebu. Nakon pregleda mi javlja da je sigurno Danka. Obilazim radnje sa stvarima za bebe, fotkam rafove i šaljem Comi fotke. Comi zaokruži šta joj se sviđa, pa to kupim. Kupim još ponešto da je iznenadim kad se vratim. Osim bebi stvari, kupujem i knjige, ploče, preduzetničke, umetničke i hipsterske časopise. Mentalno gorivo za nove pobede. Ninoslav i ja uspevamo da uhvatimo i nekoliko dobrih koncerata i da se sretnemo sa svim dragim njujorškim ljudima. Nekoliko dana pred moj rođendan se vraćamo u Beograd. Dvadesetog maja, uz rođendansko slavlje, proslavljam i prestanak dvomesečne zabrane upravljalja motornim vozilima. Danak provodu sa gimnazijskim društvom na koncertu Osobodilaca prošlog leta u Obrenovcu.
U junu Comi i ja ulećemo u pakao srpske birokratije. Prvo pribavljamo dokumenta da Comi konkuriše za subvenciju za otvaranje preduzetničke firme, a kada prođe na konkursu, krećemo u jurnjavu da konačno formalizujemo svoj, skoro dve godine star, američki brak. Prevodioci, sudski tumači, matičari, MUP, opština, APR, PIO fond, Nacionalna služba za zapošljavanje, banke… Poslednjeg dana te jurnjave čekam na sedam različitih šaltera. Nakon što je u devetom mesecu trudnoće ,umesto trudničkog bolovanja, Comi započela svoj preduzetnički staž, možemo da usporimo i počnemo da svijamo gnezdo pred porođaj.
Krečimo sobu, ubacujemo novi nameštaj, šmirglamo krevetac u kojem su rasle Comi, njena sestra i silne bebe koje su bile na hraniteljstvu kod Cominih roditelja, i farbamo ga u belo. Vreme je lepo, sunčano. Dok radimo, slušamo Bruce Springsteenov "Western Stars" na repeat.
Početkom jula krećemo u Ikeu, a usput stajemo u Višegradsku na rutinski pregled. Tamo odlučuju da Comi zadrže u porodilištu. Zbog visokog pritiska razmišljaju da joj iste noći indukuju porođaj. Zatečeni smo takvim razvojem situacije. Na sreću, pritisak joj se stabilizuje i vraćaju je iz porođajne sale u sobu. Comi tamo provodi seledećih nedelju dana u potpunom popizdu na ivici nerava. Osmog jula se rađa Danka, šo je definitivno najvažniji novi početak. Početak roditeljstva. Prisustvujem porođaju i sutradan o tome pišem i objavljujem priču na Facebooku koja postaje najdeljenija i najčitanija stvar koju sam ikada napisao.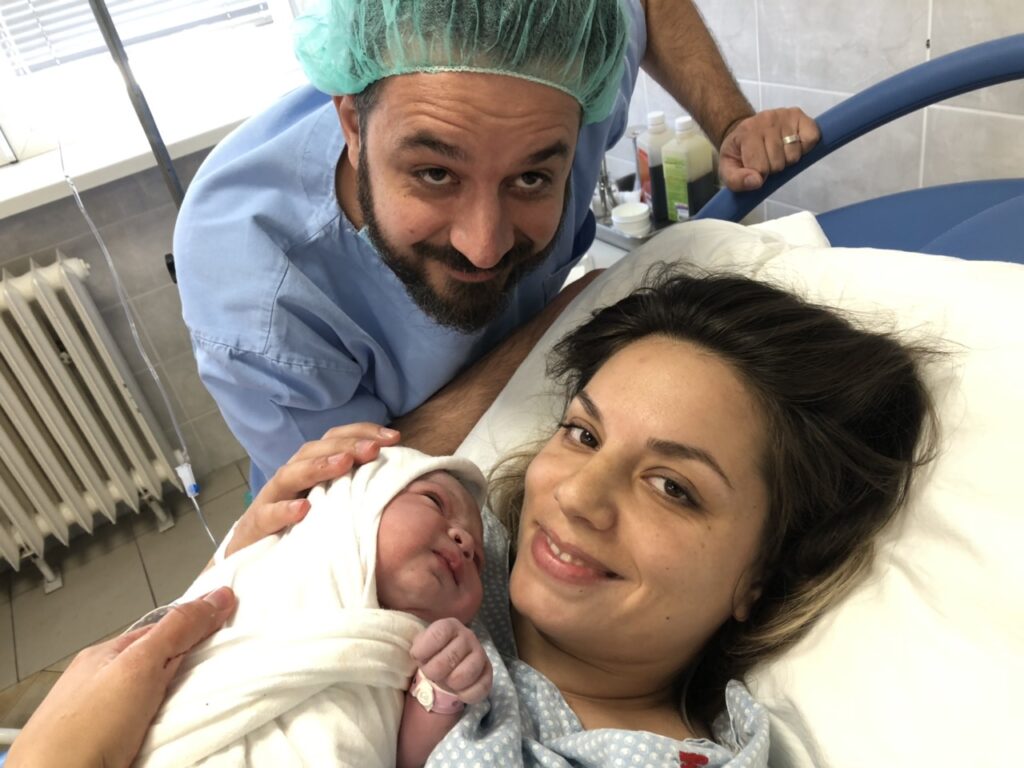 Danka i Comi posle nekoliko dana dolaze u Zemun. Zbog bebe u sobi ne palimo klimu, pa se noću kuvamo i haluciniramo od vrućine. Odlučujemo da odemo na Kop. Tamo se nakoliko dana rashlađujemo, pa se vraćamo u Beograd jer Comi ima zakazano fotkanje sa Multipraktikom. Novopečena preduzetnica dvadeset dana nakon porođaja, i dalje pomalo bleda, sa ranom koja još nije zarasla, juri po studiju i razmešta rekvizitu.
U avgustu još jedan početak. Početak mog blogovanja. Konačno aktiviram finiradovi.com, domen koji već godima obnavljam a ne koristim, i na njemu objavljujem sva svoja facebook pisanija iz prethodnih godina. Od Cominog i mog evropskog road tripa, do Dankinog rođenja. Onda nastavljam da objavljujem i nove tekstove.
Krajem avgusta imamo i svoj prvi angažman sa keteringom. U kuhinji nam se svi smeju jer koristimo previše engleskih izraza. Nikada nismo radili u srpskim restoranima i ne znamo kako se zovu neki od najobičnijih kuhinjskih elemanata i pomagala. Ima vremena, naučićemo.
Početkom septembra, dok pomažem Multipraktici u dekorisanju venčanja o kojem će kasnije tabloidi pisati kao o "nikad ranije viđenom u Srbiji", dobijam telefonski poziv koji mi najavljuje još jedan početak. Ne mogu da ulazim u detalje, ali desilo se to da će nešto, što je moja keva za života ugovorila, uskoro izgleda doneti finansije uz pomoć kojih ćemo moći da krenemo sa gradnjom nove Montane. Već nekoliko godina nas zajebavaju i zavlače razni fondovi, konkursi, konsultanti i banke i izgleda da su naši matorci, koji su nam jako puno pomagali u gradnji prve Montane, odlučili da "odozgo" malo poguraju ekspanziju, videvši da smo se mi zaglavili.
Tradicionalna sezona venčanja u septembru donosi još posla za "Ulje na vatru". Comi i ja se definitivno uhodavamo sa timom iz kuhinje i hrana koju isporučujemo ima i vrhunski ukus i izgled. Sa druge strane, uviđamo da smo sve umorniji i da ovaj ritam sa bebom u kući i nekoliko biznisa u uzletu počinje da uzima svoj danak. Na svu sreću, izgleda da nas je tada pogledao neki preduzetnički bog i poslao nam idealnu bebisiterku. Ženu koju poznajemo, kojoj verujemo i koja voli Danku. Tako je prestao da nas proganja onaj stalni osećaj krivice da zapostavljamo Danku dok radimo i da zapostavljamo poslove dok smo sa njom. Danka konačno ima ljubav tokom celog dana, a mi 6 sati dnevno za sve obaveze. Počinjem mnogo više da cenim vreme, postajem neuporedivo efikasniji nego ranije i poslove za koje mi je nekada bio potreban ceo dan, završavam za manje od dva sata.
U oktobru ozbiljno ubrzavam rad na Zanateriji. U pauzama stižem da zajedno sa ostalim Šćepanovićima ispečem paprike i spremim ajvar, a pred kraj meseca odlazim sa Ninoslavom na Kopaonik da odradimo pripreme za sezonu. Menjamo ulazna vrata, sređujemo krov i mažemo hidroizolaciju na terasu.
Poslednje noći na Kopu osećam neki čudan bol uspod levog uveta, a po povratku u Beograd osećam da mi se nešto čudno dešava sa čulom ukusa. Sutradan ujutru mi postaje sve teže da se nasmejem i da zatvorim oko, a do popodneva mi cela leva strana lica počinje da "visi". Na internetu nalazim da je to upala nerva lica – facijalisa. Comi je jako zabrinuta i tera me da idem kod doktora. Nedelja je popodne, pa odlazim u privatnu kliniku. Tamo neurolog dolazi samo zbog mene i potvrđuje moju dijagnozu sa neta. Lekovi za skidanje otoka, B vitamini, injekcije kortikosteroida i kontrola za nekoliko dana. Sto evrića. Kortikosteroidi me psihički načisto razvaljuju i prolazim kroz zajebanu depresivnu epizodu koja traje nekoliko dana. Shvatam kako je ljudima koji se bore sa depresijom za koju ne postoji jasan i rešivi okidač, već samo neko crnilo koje te proguta. Tako iskrivljen i depresivan rolam sarme i čekam goste za Svetog Luku. Uz drage ljude uspevam relativno lagano da izguram tu slavsku noć.
U novembru se još više ubrzavam u radu na Zanateriji. Odlazim i na elektrostimulacije lica u domu zdravlja. Deset minuta držim na obrazu vlažan peškir u kojem je elektroda od koje imam osećaj kao da mi mravi idu pod kožom. Za to vreme šaljem mailove onom rukom koja ne drži peškir. Onda dodje medicinska sestra i štapićem pod naponom pritiska određene tačke na mom licu, a mišići se grče i poskakuju. Jednom mi je končić mokre vate koja se nalazi na vrhu tog štapića tokom terapije upao u oko i zveknula me je struja, pa sam skočio do plafona od šoka.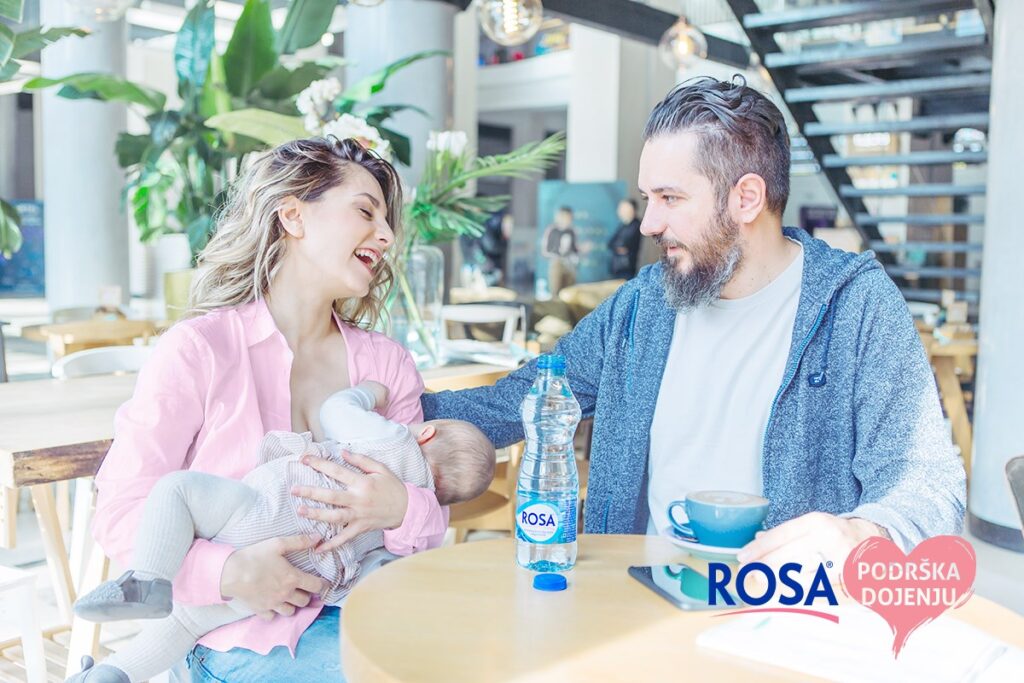 Tih dana Comi dobija poziv da sa Dankom učestuje u Rosinoj kampanji podrške dojenju u javnosti. Na nekoliko fotki je potrebno i prisustvo ćaleta, pa fotografkinja pokušava da uhvati uglove iz kojih se ne vidi da ćale ima facijalis. Facijalis se, naravno, ipak vidi, ali meni to ne smeta. Podsećanje na jedan uzbudljiv period u našim životima. U nedeljama koje slede, Rosa objavljuje na Facebooku slike Comi kako doji Danku u muzeju, kafeteriji, tržnom centru i knjižari. Ispod fotki se množe komentari muškaraca koji pišu "baci sisu da se igramo" i žena koje se gnušaju dojenja u javnosti. Rosa na kraju dana sve to obriše, pa sutra opet ispočetka. Krajem novembra proslavljamo i Savin prvi rođendan, pa Ninoslav odlazi na Kop da započne sezonu bez mene koji i dalje u Zemunu pokušavam strujom da ispravim svoje posustalo lice.
Početkom decembra u već ludačkom ritmom radim na Zanateriji. Kada se serija terapija završi, odlazim na Kop gde na sreću imam samo nekoliko introvertnih Danaca u gostima, što mi omogućava da se 18 sati dnevno bavim Zanaterijom. U Montani mi se pridružuju i Comi i Danka i konačno 21. Decembra u podne, posle godina priprema otvaramo Zanateriju za posetioce. Naš treći Zanateria partner Ivan Gaćeša poziva nas preko Skypea, pa virtuelno okupljeni lansiramo sajt.
Tako, na dan kada mi je pre pet umrla keva, mi pokrećemo nešto veliko, nešto novo, nešto za šta verujemo da može da donese promenu i nešto na šta se ložimo. Preokrećemo simboliku tog datuma. Zanateria je mi je jednom već donela sličan preokret. Bilo je to kada mi je, posle nekoliko meseci mozganja, konačno palo na pamet ime "Zanateria" dok sam u čekaonici onkologije na Bežanijskoj kosi čekao ćaleta da završi hemoterapiju. Tako jednu trulu životnu situaciju u trulom okruženju danas pamtim po dobru – kao dan kada je Zanateria dobila ime. Sećam se da sam odmah znao da je to ime ono pravo. Nisam čekao da odleži, odmah sam kupio zanateria.com.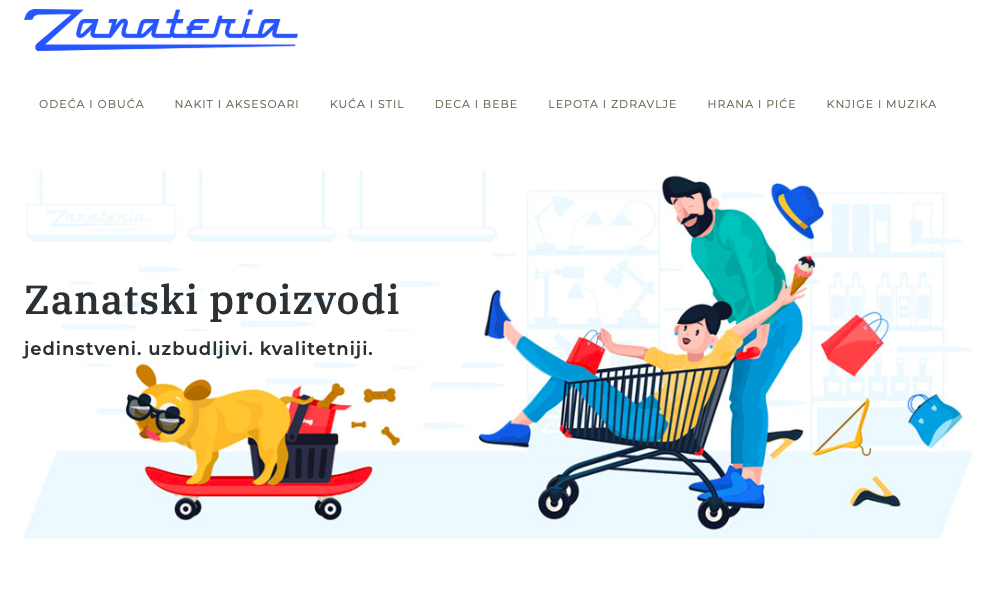 Do nove godine Zanateria konstantno raste. Svakoga dana je sve je više novih proizvođača i proizvoda. Ljudi kupuju od prvog dana. Stižu nam pohvale, dok se mi u pozadini bavimo rešavanjem bagova i tehničkih problema.
Tri dana pred Novu godinu Comi i Danka odlaze u Beograd, a Ninoslav i ja kupujemo novi agregat da se ne sjebemo kao prošle zime. U novogodišnjoj noći Rumuni u dnevnoj sobi Montane veselo pevaju rumunske prepeve svetskih pop hitova, a Ninoslav i ja u svojoj sobi gledamo film o norveškim blek metalcima koji pale crkve, ubijaju se i samoubijaju. Ucirkam se od dva mala kraft piva, otvorim treće i prospem ga u krevet. Zove me Comi da mi kaže da je 2019 bila najlepša godina u njenom životu, a ja kažem da se i ja osećam isto. Stavljam peškir preko fleke od piva i ležem da spavam pre ponoći. Struja nije nestajala. Novi agregat je, kao i ja, prespavao Novu godinu.
slobodno podeli: